Qualified ADI Driving Instructors based in Central London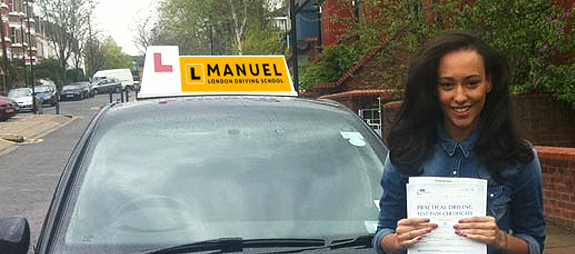 Welcome to Manuel Driving School, a team of fully qualified (ADI) independent driving instructors in the City of London to teach you how to drive a manual car in a safe and confident manner. Our driving instructors are based around Islington, but cover all the areas listed on our website.
Learning to drive can be a very liberating experience and one that we never forget and that is why each pupil must be seen as an individual rather than simply just another number, as seen by larger driving schools. With our Driving Lessons, you can be assured that the lessons will be tailored to meet your needs, where you will learn to drive with complete confidence and in a relaxing environment.
As an introductory offer, your first driving lesson will only cost £10. Please refer to the price list found by clicking on the 'Lesson prices and package' button above.
Also, why not consider Manuel Driving Lessons for your Pass Plus course, which is offered at a competitive rate.

Now into our 15th year as a driving school based in London, we now cover even more areas. All our driving instructors are ADI approved, professional and experienced, that our company has personally chosen to match our high standards. All the areas we cover are listed on this page and all the other pages in our website.
Please check out the website for further information and should you have any questions do not hesitate to get in touch and we can look forward to passing your driving test together!
Testimonials
"I was nervous about driving in London for the first time, but Manuel was a great instructor and made me feel really confident. He was clear about how I could improve my driving and did everything he could to prepare me for the test. In the end I passed first time! As an instructor he was great, and we had a laugh as well. I would definitely recommend him! Thanks again for the lessons. Feels great to have passed!" Tom
"I came to Manuel having failed twice a few years previously, and within a matter of a few months passed with only 5 minors! That was a pretty significant result given my very poor, past performances. Manuel is extremely knowledgeable about the different driving test routes in the surrounding areas of London, and more importantly, their various quirks! He's a very personable character and doesn't deride, or patronise, when giving instructions and feedback. Booking and changing appointments was always hassle free. I would strongly recommend you give Manuel a go!" Amandeep
"I recently passed my test first time with only two minor faults. This has been thanks to Manuel, who is an excellent instructor that pays attention to the smallest of details, giving you useful advice to improve your driving. He always acts professionally yet manages to have an original sense of humour that puts you at ease and helps you relax. His experience means that his lessons are always informative and relevant to your learning. I'm more than happy to reccommend Manuel to anybody wishing to learn how to drive properly and pass the test with flying colours." Nahuel

---


We have now opened a new driving school in Corby, Kettering and Market Harborough in the East Midlands.
Train To Become
A Driving Instructor
With Us
Your New Career Starts Here
Join Our Franchise of
ADI Driving Instructors
in London
Join our team of Driving Instructors today.
---
Our driving instructors cover driving lessons in these areas;
North London
East London
Central London
If you live outside of these areas, please contact us as we may still be able to help you.
Call for your first driving lesson for only £10 today on: 020 3369 4199 or drop us an email: Manuel.f.basilio@gmail.com